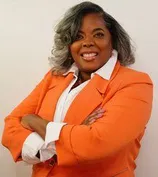 Nekia D. Jones, LCSW-C is the owner of Redefining Moments LLC, a private practice in Baltimore, MD which focuses on providing treatment services to individuals, families, and couples.
Nekia is a graduate of Morgan State University School of Social Work and has extensive experience treating trauma-related and substance abuse issues. Nekia has collaborated professionally to present at national conferences and to speak at churches and agencies on issues related to Domestic Violence, Substance Abuse & Mental Health, and Grief & Loss.
Nekia is an interactive, solution-focused therapist. Her therapeutic approach is to provide support and practical feedback to help clients effectively transform, heal, and grow through challenging moments in life. She integrates complimentary methodologies and techniques to offer a personalized treatment plan tailored to each client. With compassion and understanding, Nekia works with each individual to help them build on their strengths and attain the personal growth they are committed to accomplishing.
In addition to being a clinical therapist, Nekia also functions as a consultant to many organizations, businesses, and inter-faith communities to provide training and workshops on the impact of mental health.